Make your kids clock-watching experts in no time through these printable learning clocks. Help your kids make a cardboard analogue clock of their very own with cardboard packaging. These clock activities are perfect for each age student either kindergarten, year1 or year2. It will only take 10 minutes to make this clock and will help your kids in practice telling time. This activity will not only help you in teaching your kids how to read time but will also help your kids build some DIY skills. This fun homemade printable clock template is a great tool to engage your kids and make the process of learning to read the time easier for them. Clock activities are a fun way to learn time-telling. And, it's no doubt your kid will learn to tell time with this clock craft template easily.
Related: Free Printable Weekly Timetable
Using the given free printable sheets, you can make appealing cardboard clocks that will help you in teaching your kid how to tell and read the time. Teach your kids the times o'clock, half past, quarter to and quarter past with these homemade analogue clocks. You can also use the printables as build a clock worksheet.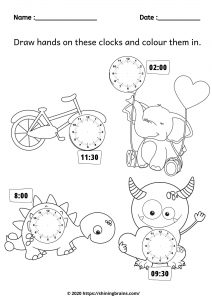 Perform Amazing Clock Activities with these Free Printables
You can download the clock of your choice by clicking the pictures below.
Material needed:
Cardboard, A4 size
Paper Pin
Scissors
Glue
Print of any clock face below
Follow the steps below to make the cardboard analogue clock activity:
Download and print the preferable clock template printable from our free printable provided below.
Step 1: Carefully cut the clock, the hour hand and the minute hand with scissors.
Step 2: Paste the clock on the cardboard with glue. Let it dry then cut out the clock.
Step 3: Paste the hour and minute hands on the cardboard with glue. Let them dry then cut out the hour and minute hands.
Step 4: Insert the paper pin through the hour hand, the minute hand, and then through the clock.
An educational and amazing cardboard clock is ready in just 10 minutes for teaching your kid how to tell time.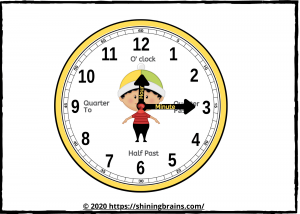 Also, check: Pattern Worksheets for kids
I hope you enjoy these amazing colourful clock printables.